Head's up, there might be affiliate links ahead!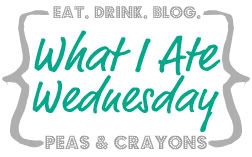 I can't believe I'm 3 weeks out from my fitness competition!  I've been training for this for months and months now, and FINALLY I can see a light at the end of the tunnel!
I'm also starting to see the (potential) of some abs!!
As I mentioned last week, I'm carb cycling now, which is a lot more difficult than I thought.  I don't typically plan my meals down to the carb and protein (although I'm staring to now), so it's hard to remember if it's a 1 carb day, or two.
Honestly, at this point, I just want to go back to unplanned natural eating.  I'll definitely continue to keep it clean and lean so that I can maintain all the work I've put into my new shape, but I seriously just don't want to think about eating that much anymore.
Anyhoo….here's my eats!  It's a thrill a minute, I warn you…..
Breakfast:  The drill these days is oatmeal and egg whites, but to make things a little more interesting, I roasted my apple chunks yesterday (because we have about 4 thousand apples right now).
Mid Morning snack:  My go-to smoothie.  It's less than 200 calories, but it has almost 30 grams of protein and it's really good!  Check out my little video recipe.  How dork infused am I?
Lunch: Salad, braised daikon and toasted tempeh with Tiziki (recipe forthcoming)
Afternoon snack:  It's not the healthiest thing in the world, but I was in a pinch.
Dinner:  The other night I had to dash out to a meeting with a bunch of awesome ladies.  We meet once a month to talk biz goals (and drink wine… of course). I knew there was going to be snacks galore (and pizza), so I armed myself with a foodie defense – a bowl of oats with chocolate protein powder (this stuff is super nom).  Fortunately, our fearless meeting leader took my lamo diet into consideration and brought us all kale salads from my friend's new café on Melrose in LA.  The café is to die for, but the Kale salad is beyond words.
Who knew Kale could be so good?
Um, a little favor to ask…
Now, I know I'm a complete stranger to many of you reading this blog, but if there's one thing that anyone who knows me "in real life" would say about me is that I'm a bleeding heart animal lover.   That's why I eat the way I do, and it inspired the start of Voodies.
Last week (as I mentioned), myself an another gal rescued a dog from a high kill shelter in Orange County.  He's a gorgeous, sweet little man that will eventually make someone very happy.
However, we just found out that Teddy needs about $600 worth of surgery to remove a growth on his tail and an abscess tooth that's preventing him from eating much.
If you love animals, if you love dogs, even if you love random acts of kindness, would you consider making a donation to our little man's surgery?

Anything, even 5 bucks would make a difference.
Thank you for your kindness and thank you for reading Voodies!!  XO